Blog
7 effective ways to improve the air quality in your home this fall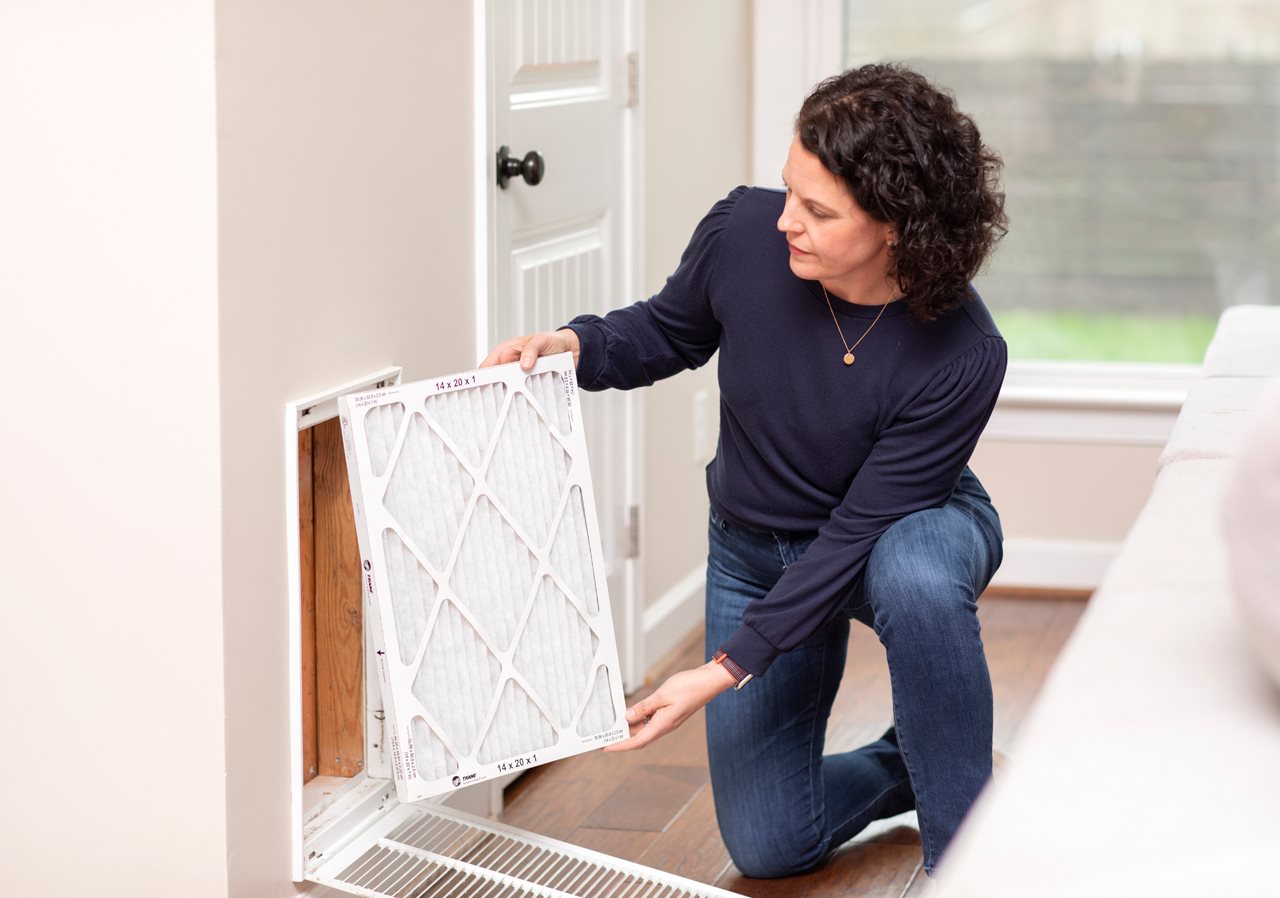 Photo courtesy Trane Residential

(BPT) - If you're concerned about your home's air quality, especially if anyone in your household has asthma or allergies, now is the perfect time to consider cleaning up your indoor air quality. With fall allergy season in full swing and colder air on the way, the quality of the air in your home is more important than ever.
Here are tips to improve your indoor air quality.
Change air filters frequently
When filters aren't replaced, dirt and debris buildup results in more particles remaining in the air and decreased airflow. This makes your HVAC system work harder, reducing efficiency and raising energy bills. It's crucial to regularly replace disposable filters that can be found in furnaces, air conditioners, air handlers, humidifiers or cleaners. Be sure to clean any filters that are not disposable.
How often should you change filters? Start by checking the owner's manual for specific recommendations. Trane Residential, a leading residential HVAC brand, recommends changing them every 30-90 days.
Need help remembering to replace air filters or getting the correct size? Get a subscription! TraneFilter powered by FilterTime is a subscription service that ensures you'll have the right-sized filter at the right time. Consider signing up for a subscription using the Trane Home app or at TraneFilters.com. You can set up filter reminders in your Trane Home app, and you'll receive free shipping of replacement filters directly to your door.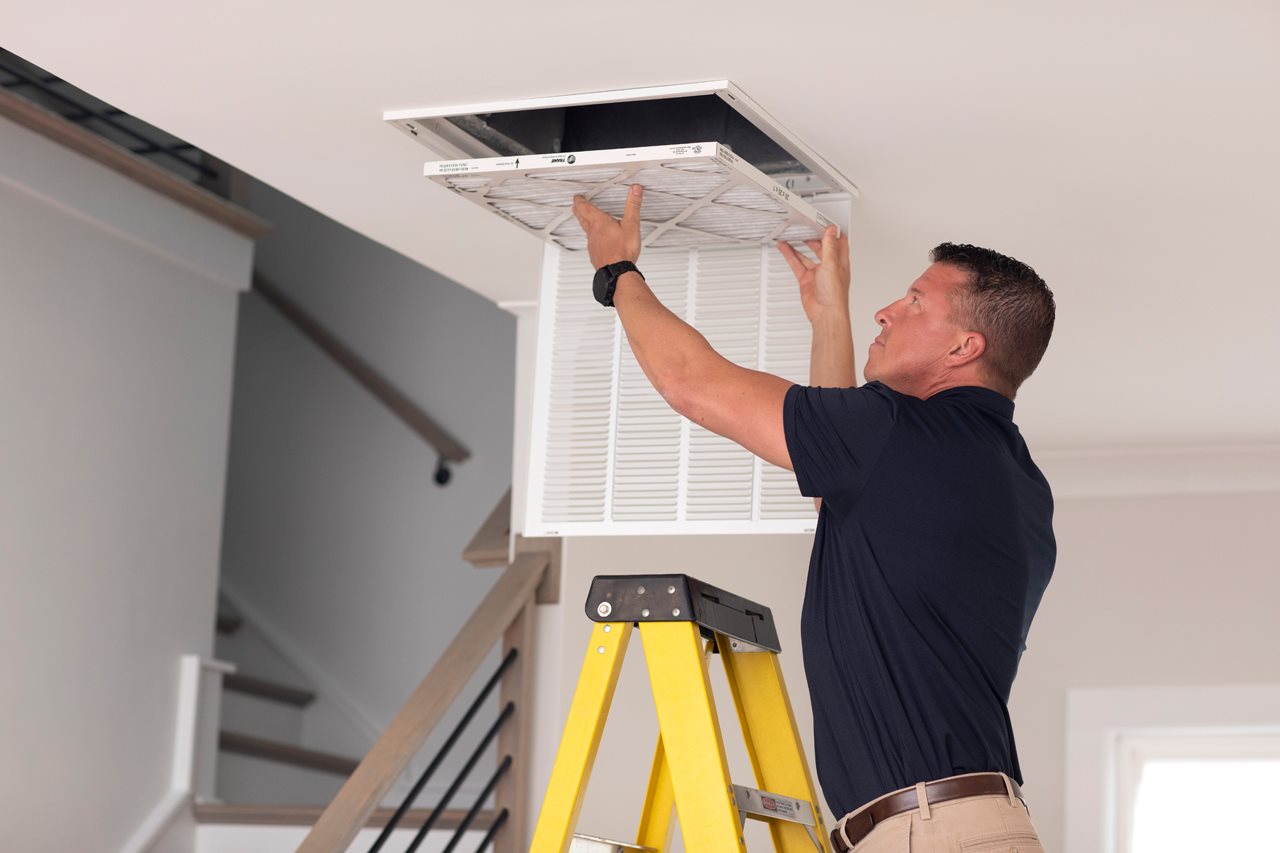 Photo courtesy Trane Residential
Eliminate sources of indoor pollutants
Common sources include gas stoves, some cleaning supplies, paints, tobacco products and wood-burning fireplaces. When contaminant levels are high, effects from exposure can show up immediately such as irritation of eyes, nose and throat, headaches, dizziness and/or fatigue.
Use controlled ventilation
When sources of indoor air pollutants can't be eliminated, consider supplying clean, fresh air to your indoor environment. Opening windows may allow for air exchange but won't filter the incoming air or block allergens or asthma triggers like pollen.
The best way to ensure adequate fresh air is supplied to your home is to keep windows and doors shut and use a filtered mechanical ventilator to bring fresh air in, filter it through your HVAC system and expel the stale and polluted air outside.
Add a whole-home air-cleaning device
Exceeding what standard HVAC filters can do, a whole-home air cleaning device removes harmful fine particulates, smells, allergens, mold, and viruses from the air. For example, a Trane CleanEffects® Whole Home Air Cleaner can remove up to 99.98% of unwanted airborne pollutants as small as .3 microns.
CleanEffects is certified asthma & allergy friendly® by the Asthma and Allergy Foundation of America. For the over 65 million Americans with asthma and allergies, this certification mark guides consumers in identifying products more suitable for people with asthma and allergies. The asthma & allergy friendly® Certification Mark is awarded only to products scientifically proven to reduce exposure to asthma and allergy triggers.
Make it easier to live with your four-legged friends
Air quality is even more important if you have fur babies in your home, as pet dander is a common allergen. A Trane Residential survey of 2,000 pet owners conducted by OnePoll found the average pet owner spends 832 hours each year cleaning after their pets, and 3 in 4 say they clean their homes constantly since getting their furry friend.
When it comes to allergies, 45% of pet owners said they were happy to put up with some sneezing. If this sounds familiar, using a whole-home air cleaning device can improve your comfort while enjoying your furry family members.
Balance humidity
Maintaining your home's humidity level between 35-60% is another factor in improving indoor air quality. Mold, dust mites, and other air pollutants tend to thrive outside that humidity range. You can monitor humidity levels through a reliable HVAC thermostat and help manage it with a whole home dehumidifier and/or humidifier.
Set up an HVAC service check
It's important to test your home's indoor air quality to identify pervasive issues like pollen or allergen introduction that can negatively affect you or someone with asthma and/or allergies.
If you're experiencing health symptoms that may be related to bad air or just want peace of mind, have a local Trane Comfort Specialist near you test your home's air. They can help you find solutions to reduce air pollutants and improve your home's overall air quality.
In honor of National Indoor Air Quality Awareness Month, learn more and act now to breathe easier at Trane.com.
---